Enter the Underworld: Join the Most Immersive Free Online Mafia RPG Game Today!
[February 2023]
In the dark alleys and seedy back rooms of the city, a war is raging between rival mafia families. Our text-based RPG mafia game is designed to make you feel and act like a mafioso, working your way up the ranks as you complete missions, level up and rise to power.
You are in control of your destiny - will you become the ultimate mafia boss?
Join weekly rounds, choose your city, and fight to become the best! Check out some of our gameplay features below:
Solo and multiplayer RPG

Build operatives - Hire hitmen, bodyguards, dealers, and much more to rise to the top

Earn Intel - Gain intel on your enemies by completing mini-games and challenges

Compete in weekly rounds - Go up against other players. Defeat, defend, and attack!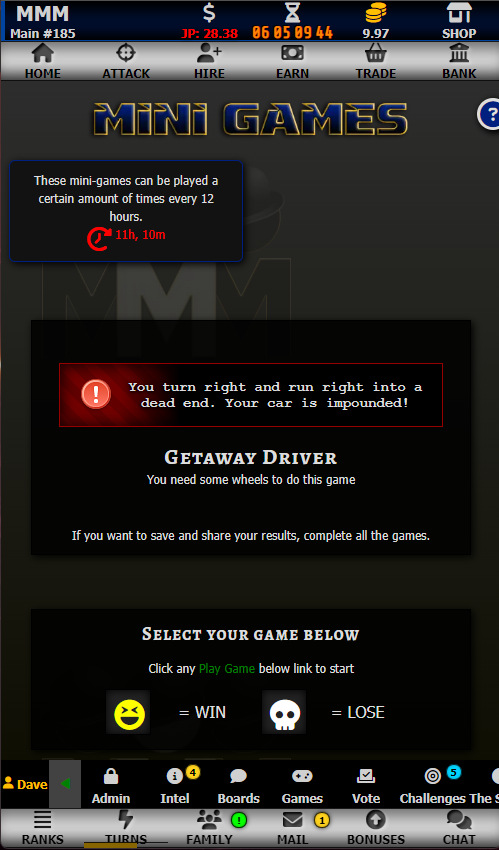 Role-play as a thief, hitman, or money-maker!
Navigate the dangerous streets of the city and complete tasks like theft, extortion, and sabotage to help you or your family gain power and territory. Demand respect in this text-based game where real cash prizes are up for grabs.
Find mafiosos that have money and attack to steal from them

Gain in-game money through intel by collecting cuts from operatives

Attack other players and kill the most defensive units
Multiplayer text-based mafia game
As you gain more experience and reputation, you'll be promoted to higher ranks within your family, eventually becoming a capo or even the boss. But with power comes responsibility, and you'll need to make tough decisions about how to run your family's operations. Will you focus on making money through legal businesses, or will you resort to more violent tactics?
Multiplayer gameplay features:
Send each other in-game money

Communicate and strategize to outflank your enemies

Take down tough rival mobsters by working in tandem

Contribute to the family mission: expand family turf, target other mafia families, expel non-members of your family from your city

Made Man Mafia RPG text-based game is full of colorful characters, from your fellow soldiers to rival gangsters and corrupt cops. You'll need to navigate alliances and betrayals as you work your way up the ladder of power. And in the end, only one family can come out on top. Will it be yours?
Want to get started Gangsta? MMM is ready, are you?